Twinwall duct coil (Green/Telecoms) - 94/110mm x 50m
Regular price

£143.99

(£119.99 ex VAT)

Regular price

Sale price

£143.99

(£119.99 ex VAT)

Unit price

per
Est. delivery: 2-3 working days
This twinwall duct is used for underground telecoms services.
Features:
Manufactured in HDPE
Flexible
Strong
Corrosion resistant
Impact resistant at low temperatures
Lightweight
BBA approved
Kitemarked certified to BS EN 61386-24
Suitable for underground telecoms systems
Share
Full Description

We supply a wide range of twinwall duct coil to suit your needs. This twinwall duct coil is 94/110mm and 50m long – suitable for telecoms use.

Why purchase twinwall duct coil?

At Cotterill's we offer an advanced and comprehensive range of ducting. We can help meet the needs of all civils, utility and telecommunication markets. These ducting systems offer the advantages of a lightweight flexible product combined with high strength and durability.

These ducts are manufactured in polyethylene the pipe is normally supplied in either 6m lengths or 50m coils. This twinwall duct is made from HDPE (High Density Polyethylene), being both strong and resistant to corrosion. Like our flexible duct, it is designed to meet the current compressive strength requirement of the Highways Agency. The external corrugated profile gives the product added strength and the internal bore is slightly smoother to prevent cables from snagging.

You should always choose a diameter that allows plenty of room within the duct to allow the cable or cables to be drawn through smoothly. This duct is also both BBA approved and kitemarked certified to BS EN 61386-24, providing peace of mind.

If you plan to run any type of service underground, it should be running inside a duct system. A duct is designed to protect the service cable or pipe from damage and alert others to the presence of duct in the ground.

Why purchase green/telecoms twinwall duct coil?

Green twinwall duct coil is used for ducting telecoms supply pipes. This should ensure that the pipe is unaffected by either frost or potential surface digging.

What are the benefits of twinwall duct coil?

Twinwall duct coil has many benefits when it comes to underground services:

• Manufactured in HDPE
• Extremely flexible
• Strong and impact resistance at low temperatures
• Corrosion resistant
• Lightweight allowing for easy installation
• Twinwall – smooth on the inside, rugged out the outside
• Kitemarked certified to BS EN 61386-24 and BBA approved for peace of mind
• Suitable for underground telecoms systems
Technical Specification

Diameter: 94/110mm

Purpose: Telecoms

Material: HDPE

Colour: Green

Length (mm): 50m

Internal: 94mm

External: 110mm
Contact Us

Our team of experts are available and ready to speak to you. You can contact us or call us directly on 0121 351 3230. Available Mon-Friday 8am-5pm.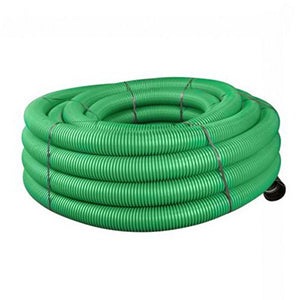 Further questions?
Our team of specialists are here to help. We install many of our products so can provide real-world advice. We also offer a free take-off service if required.
Make an enquiry