Large Diameter Pipe (HDPE)


Large Diameter Twinwall Culvert Pipe
Our HDPE large diameter twinwall structured pipe provides a cost-effective solution for:
Large watercourse crossing points

Culverts and river diversions

Outfalls

Tunnels

Foul sewers

Playgrounds

Surface water drainage & attenuation
Landfill and marine applications

Paintballing hideouts

BMX tracks

Skate parks

Assault courses

Pipe rehabilitation and relining

Above and below ground applications
---
Manufactured from recycled high-density polyethylene (HDPE) plastic, our large diameter twinwall pipe has an outer corrugated wall to provide structural strength combined with a smooth inner wall to offer optimised hydraulic flow.
These pipes are incredibly lightweight, for ease of handling and installation whilst also being durable and tough. Due to their strength and durability these pipes can be installed under roads or car parks.
---
Why choose our large diameter HDPE pipe?
Lightweight, single piece fabrication makes for easy handling and installation.
This product is manufactured using using ultra tough extruded & spiral welded High Density Polyethylene (HDPE), and will therefore last for years to come.
Easy handling & installation
The lightweight, single piece fabrication makes for easy handling and installation in comparison to traditional concrete pipes.
Chemical & shock resistant
Pipes are designed to be chemical and shock resistant to ensure a long product life.
Our pipes are manufactured to a high quality and are WRC and BBA approved.
We provide a range of sizes and can provide bends and junctions to suit your specific application.
---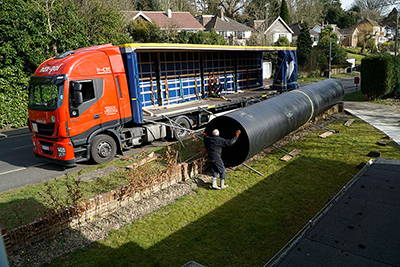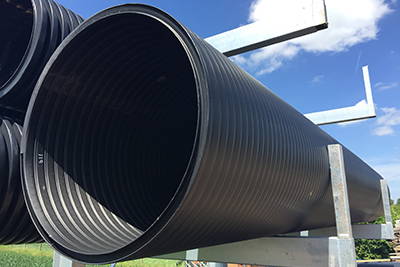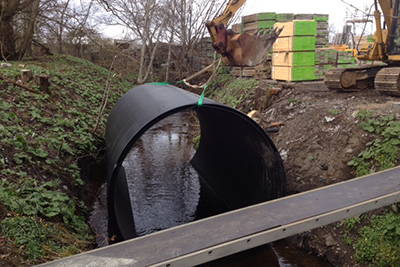 ---
Sizes available in large diameter twinwall
Our twinwall pipe comes in single lengths up to 14m versus traditional 2.5m concrete lengths. We supply a range of diameters from 700mm to 3,500mm in perforated and unperforated twinwall pipe. Strength rating options up to 6kN/m2 are available. See some of our options below.

We can also offer discount pricing for bulk orders. Please call us for a quote.
Large Diameter Twinwall Pipe (Naylor)
| | | | |
| --- | --- | --- | --- |
| NNominal Size (m) | ID (mm) | OD (mm) | Length (m) |
| | | | |
| | | | |
| | | | |
Large Diameter Structured Wall Pipe (Weholite)
| | | | | |
| --- | --- | --- | --- | --- |
| ID (mm) | OD (mm) - 2kN/m2 | Weight (kg/m) - 2kN/m2 | OD (mm) - 4kN/m2 | Weight (kg/m) - 4kN/m2 |
| | | | | |
| | | | | |
| | | | | |
| | | | | |
| | | | | |
| | | | | |
| | | | | |
| | | | | |
| | | | | |
| | | | | |
| | | | | |
| | | | | |
| | | | | |
| | | | | |
| | | | | |
| | | | | |
| | | | | |
---