Slimline 920 Potable Above Ground Water Tank (Harlequin)
Regular price

£572.39

(£476.99 ex VAT)

Regular price

Sale price

£572.39

(£476.99 ex VAT)

Unit price

per
Est. delivery: 5-7 working days
N.B. There will be a surcharge for any deliveries within the M25 area.
Standard Features:
Moulded in one piece from durable medium density polyethylene material
2" outlet; 2" BSP(F) thread
4" access opening with screw cap
2" screened vent
Share
Full Description

This is a slimline 920 litre potable above ground water tank manufactured by Harlequin, this water tank is suitable for potable purposes, allowing you to drink water stored in it.

Available in a choice of sizes, ranging from 920 litres for smaller applications, up to 9250 litres, many of the tanks we provide are suitable for the safe storage of potable (drinking) water. And if space is at a premium, you'll find a selection of slim vertical tanks that will allow you to safely store drinking water without taking up too much room onsite.

Why purchase a water tank?

Having a water tank on your property reduces or eliminates the consumption of water from your main supply, which in turn cuts down the cost or eliminates your water bill. With the increased focus on environmental issues and sustainability, such systems are ideal for those who want to save water. Also known as greywater, harvested rainwater is often utilised for tasks such as washing cars and clothes, flushing toilets, and watering gardens and crops. In fact, they're suitable for any application where the water won't be drunk by humans or animals.

Benefits of water tank

There are many benefits of installing a water tank at home and here are the most common:

• Manufactured in high quality recyclable polyethylene
• Suitable for domestic, agricultural and commercial use
• Lightweight and easy to handle
• Low maintenance
• UV stabilised
• Corrosion resistant
• Fully vented
• Cost effective
• Protects the environment

Why purchase a Harlequin tank?

Harlequin Manufacturing offers one of the largest water storage tank ranges from any UK manufacturer. The Harlequin range includes Aboveground Tanks, Underground Tanks, together with a choice of Potable and Non-Potable Tanks.

Harlequin above ground Water Storage Tanks are manufactured from a specialist grade medium density polyethylene meaning they will never rot, rust or corrode. They are ideal for installations at agricultural, domestic, commercial and industrial premises. Each one is manufactured in the UK and designed to exceed all applicable British and Irish water storage regulations. For further reassurance, all Harlequin Potable Water Tanks are approved for the storage of Drinking Water by the Water Regulations Advisory Scheme (WRAS).

Technical Specification

Capacity (litres): 951 litres

Weight (kg): 58kg

Height (mm): 1165mm

Diameter: 1530mm
Contact Us

Our team of experts are available and ready to speak to you. You can contact us or call us directly on 0121 351 3230. Available Mon-Friday 8am-5pm.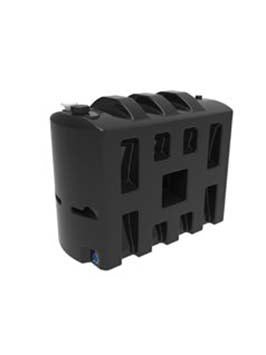 Further questions?
Our team of specialists are here to help. We install many of our products so can provide real-world advice. We also offer a free take-off service if required.
Make an enquiry