Graf Platin XL Direct 10,000 Litre Tank
Regular price

£5,700.00

(£4,750.00 ex VAT)

Regular price

Sale price

£5,700.00

(£4,750.00 ex VAT)

Unit price

per
Est. delivery 7-10 working days
This 10,000 litre Platin XL Direct rainwater tank by GRAF offers a cost-effective solution to rainwater harvesting. Despite its XL size, this tank is low profile, meaning a shallow excavation depth is required. Rainwater can be repurposed for a wide variety of indoor and outdoor applications. 
15 year warranty 

This product has won multiple design awards 

Requires 80% less digging compared with a cylindrical cistern, saving labour and time

No slope angle required due to low installation depth 

Made from high-quality polypropylene 

Pedestrian & vehicle loading lids available

Multiple applications 
Share
Full Description

Platin XL Direct tanks offer an excellent solution to rainwater harvesting. They are a cost-effective alternative to cylindrical tanks due to requiring 80% less excavation space, as well as the number of applications they can be used for. This tank is suitable for domestic and commercial properties.

This 10,000 litre tank comes with a Mains-On-Tap unit which fills the water in the tank with mains water when required. This means that a reliable water supply will always be provided, even during periods of low rainfall. The tank prioritises rainwater, meaning that the water in the tank is being optimised. The submersible pump provides rainwater to the washing machine, outdoor tap and toilets. This tank comes with a self-cleaning filter system which ensures the water is free from debris before it is repurposed.

This product comes with a 15 year warranty so you can be confident that your product is protected.

This GRAF rainwater harvesting tank has many applications. These include:
- washing cars
- watering plants
- pressure washing
- flushing toilets
- washing clothes

Using a rainwater harvesting tank will reduce your water bill, as it makes use of natural resources. Rainwater is superior to mains for washing clothes, as it is soft water which prevents limescale build up in the washing machine.

The Platin tank is available to purchase with a pedestrian loading lid which is suitable for garden use, or vehicle loading which is suitable for a driveway.

Benefits of rainwater harvesting:

1. Using a rainwater harvesting tank reduces the demand for water from other sources like rivers, lakes, and groundwater.

2. Using rainwater can be a cost-effective alternative to mains water supply systems. The tank has a long lifespan, and the cost savings over years of use is significant, and the water has beneficial qualities.

3. Rainwater harvesting is eco-friendly as helps to reduce water pollution, soil erosion, and flooding. It also reduces the reliance on fossil fuels for water pumping and distribution.

4. Harvested rainwater can be used in a number of applications, including garden irrigation, washing clothes and vehicles, flushing toilets, and more. This makes your purchase excellent value for money.

5. Harvesting rainwater can help communities to become more resilient when facing water scarcity. It can also help to reduce the burden on mains water supply systems during peak demand.

Technical Specification

Weight (kg): 460kg

Height (mm): 4900mm

Tank Size (Litre): 10,000 litre

Width (mm): 2250mm
Contact Us

Our team of experts are available and ready to speak to you. You can contact us or call us directly on 0121 351 3230. Available Mon-Friday 8am-5pm.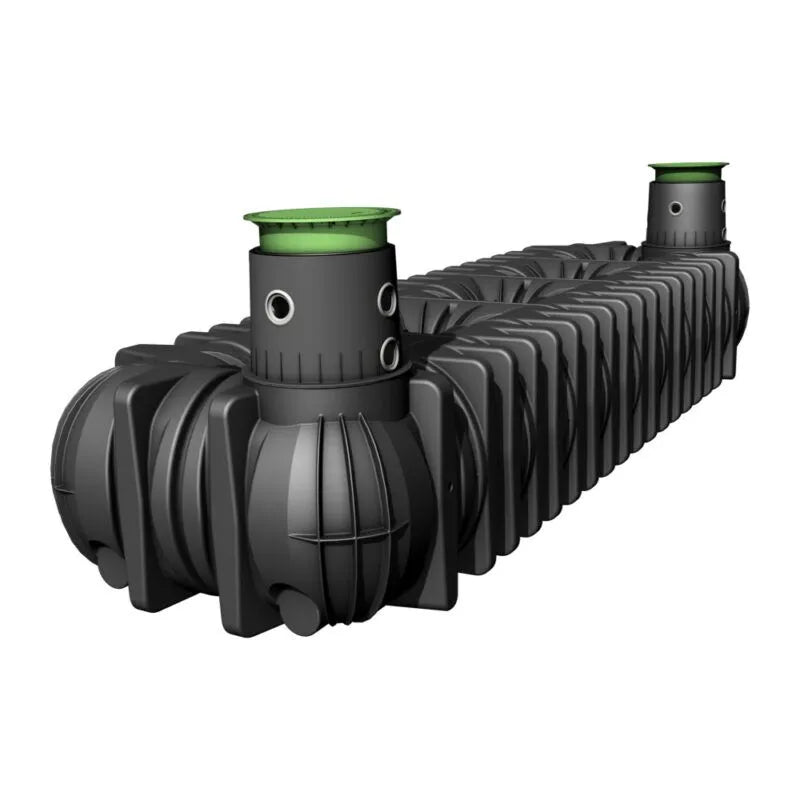 Further questions?
Our team of specialists are here to help. We install many of our products so can provide real-world advice. We also offer a free take-off service if required.
Make an enquiry