Deepstyle 170mm Gutter Rise & Fall Bracket - 350mm Drive-In Spike
Regular price

£19.49

(£16.24 ex VAT)

Regular price

Sale price

£19.49

(£16.24 ex VAT)

Unit price

per
Est. delivery 3-5 working days
Rise & Fall Bracket with 350mm Drive In Spike designed for 170mm industrial gutter solution. Manufactured by Brett Martin and compatible with their CLIP & SEAL easy-install innovation. Components snap together easily to form a strong, water-tight seal.
Fully tested for accelerated ageing according to BS EN 607:2004

Loading capabilities in line with BS EN 1462:2004

High quality product certified by BS EN ISO 9001:2015
Manufacturer's product code: BRF9
Download: Brett Martin Rainwater brochure | Brett Martin Rainwater product guide
Share
Full Description

This rise & fall bracket designed for the 170mm industrial/commercial Brett Martin gutter system has a 350mm drive-in spike to insert in the exterior wall of your project. This product is made from galvanised steel and is compatible with uPVC industrial gutter systems.

Why buy a rise and fall bracket?

There are two types of bracket available to purchase which can be matched to the needs of your project: rise and fall brackets, and fascia brackets. Rise and fall brackets consist of a galvanised steel drive in spike which is inserted directly into the wall and a half-round, metal bracket to hold the gutter.

This solution is commonly used on heritage projects, terraces, cottages, and other such properties. However, their use is becoming more widespread. One of the major benefits is the ability to adjust the height of the gutter without changing the bracket position in the wall.

On the other hand, fascia brackets are made from high-strength uPVC and are fixed directly onto the exterior of the building (not driven into the wall itself). The height of the gutter cannot be adjusted without completely removing and reinstalling the bracket in a different position.

A number of other components besides gutters are also required to install a whole system. Our guide on choosing the most suitable system for your project includes more details on what factors you should bear in mind when designing your system.

Is installation straightforward?

CLIP & SEAL is the easy-install innovation from Brett Martin. By just clipping components together, a water-tight seal throughout the whole system is formed.

Markings on the products also provide a useful aid for installing the components. It is important for the installer to know how much space to leave to let the product expand in hotter conditions. Also, cordless power tools are compatible with the installation of these products.

Brett Martin gutter systems are in line with the latest regulations, including:
• The Building Regulations 2010
• Building (Scotland) Regulations 2004
• Building Regulations (Northern Ireland) 2012
• The Building Regulations 2010 (ROI)

This product also meets the standards of EN 607:2004 and EN 12200-1:2000. This means that the manufacturer has met a number of requirements in manufacturing this product. Due to this certification, the product is long-lasting and sturdy.

The Brett Martin range is compatible with products from other manufacturers.
Technical Specification

Height (mm): 140

Material: Galvanised Steel

Length (mm): 330mm
Contact Us

Our team of experts are available and ready to speak to you. You can contact us or call us directly on 0121 351 3230. Available Mon-Friday 8am-5pm.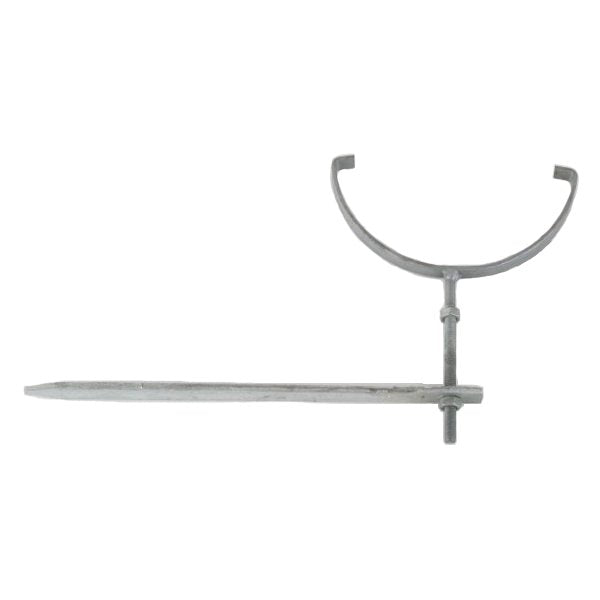 Further questions?
Our team of specialists are here to help. We install many of our products so can provide real-world advice. We also offer a free take-off service if required.
Make an enquiry