Deepstyle 115mm uPVC Rafter Top Gutter Bracket
Regular price

£4.54

(£3.78 ex VAT)

Regular price

Sale price

£4.54

(£3.78 ex VAT)

Unit price

per
Est. delivery 3-5 working days
Gutter Bracket to install 115mm Deepstyle gutter to buildings that do not have a fascia board to which to attach a fascia bracket. This rafter top bracket is affixed to the top of a rafter. A fascia bracket is installed to the vertical part of the bracket.
This product must be installed with a Fascia Bracket.
Manufactured by Brett Martin

Galvanised steel

115mm High-Capacity Deepstyle domestic gutter system

Adjustable to ensure the right fall

Bracket for installing guttering when there are no fascia boards

Fully tested for accelerated ageing according to BS EN 607:2004

Loading capabilities in line with BS EN 1462:2004

High quality product certified by BS EN ISO 9001:2015
Manufacturer's product code: BRT5
Download: Brett Martin Rainwater brochure | Brett Martin Rainwater product guide
Share
Full Description

A gutter bracket for use on properties with open eaves. That is, those that lack fascia boards at the eaves, as you cannot attach a fascia bracket directly onto the building.

This galvanised steel bracket can be securely attached to the top of a rafter and then a fascia bracket is then attached to the vertical part of the bracket. The height of the bracket can be adjusted accordingly to ensure the correct fall of the gutter.

We alternatively also sell rafter side brackets, which are attached to the side of the rafter instead of the top.

What kind of bracket do I need?

The choice between which bracket is the right choice for your project very much depends on the specifics of its design. In certain instances, for example with open eaves that do not have a fascia board to attach a fascia bracket to, it is necessary to first install a rafter bracket.

In other cases, you may opt for a rise and fall bracket with a drive-in spike that is inserted directly into the masonry on the side of the building. This option is particularly common on older buildings, such as cottages, but it is becoming increasingly widespread.

A number of other components besides gutters and brackets are needed to install a whole system. Take a look at our guide on the different gutter components at the bottom of this page.

Brett Martin guttering products are manufactured in line with the latest regulatory requirements and current UK and ROI building standards.
Technical Specification

Material: Galvanised steel

Length (mm): 305mm
Contact Us

Our team of experts are available and ready to speak to you. You can contact us or call us directly on 0121 351 3230. Available Mon-Friday 8am-5pm.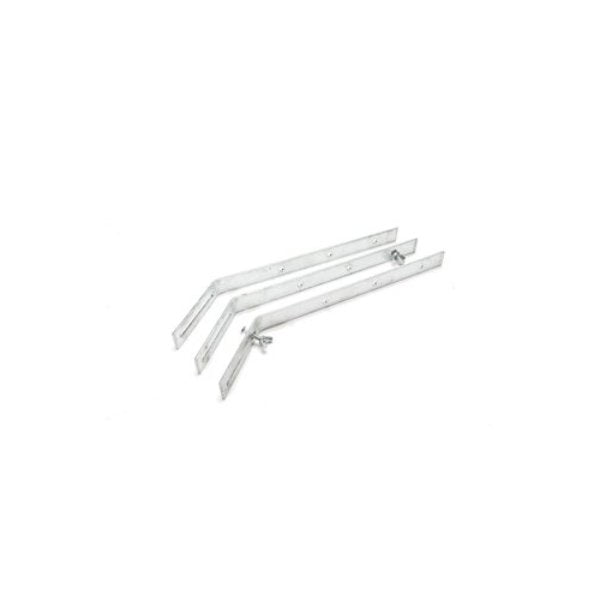 Further questions?
Our team of specialists are here to help. We install many of our products so can provide real-world advice. We also offer a free take-off service if required.
Make an enquiry