Clearwater Shallow Dig Septic Tank 3,800 ltr (500mm invert)
Regular price

£1,615.99

(£1,346.66 ex VAT)

Regular price

Sale price

£1,615.99

(£1,346.66 ex VAT)

Unit price

per
Est. delivery: 5-7 working days
This is a 3,800 litre Clearwater Shallow Dig Septic Tank with 500mm invert, suitable for up to 12 people and perfect for off-mains domestic properties, holiday homes and static caravans.
Share
Full Description

Clearwater septic tanks come in a number of sizes ranging from 2,800 to 9,150 litres to suit your application and are used to take care of the functional issues of storing sewage for a huge number of homes.

Clearwater septic tanks achieve a high degree of settlement, producing a quality effluent for discharge to a land drainage system. Manufactured from GRP (Glass Reinforced Plastic) these tanks are strong, light, chemically resistant and watertight.

Clearwater shallow dig septic tanks are manufactured to meet both the installation requirements and the standards of discharge specified by BS 6297:1983. They are used for domestic sewage disposal where connection to a mains sewer is not practical.

Why use Shallow Dig?
Shallow dig Septic Tanks benefit from reduced installation costs and 50% less installation time compared to when installing a spherical tank as they require less soil disposal and a reduced excavation depth.

What are the benefits?
•Reduced installation costs
•99.7% efficient
•These septic tanks are the perfect upgrade from traditional cesspools
• Manufactured from GRP and EN12566-1 approved
• Suitable for pea shingle gravel backfill for dry sites
•Last longer
•Increase hygiene and improve efficiency in the treatment of waste
•Can be used in hard rock areas

Why use Clearwater?

Clearwater pollution control was established in 1978 and has a proven track record in the design and manufacture of wastewater treatment systems. They have produced a range of good quality and simplified systems for waste water handling for the home and garden.

Technical Specification

No. of people: 12

Capacity (litres): 3800 litres

Diameter: 1225mm

Inlet Invert: 500mm

Length (mm): 3895mm
Contact Us

Our team of experts are available and ready to speak to you. You can contact us or call us directly on 0121 351 3230. Available Mon-Friday 8am-5pm.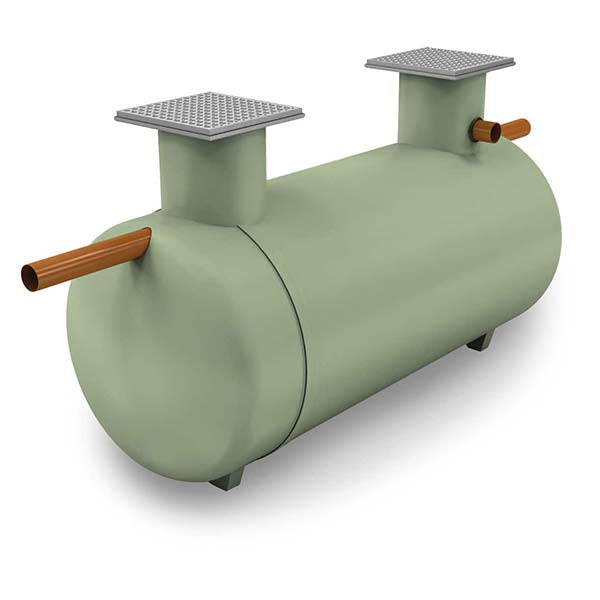 Further questions?
Our team of specialists are here to help. We install many of our products so can provide real-world advice. We also offer a free take-off service if required.
Make an enquiry