8 Person Marsh ENCO Sewage Treatment Plant (Pumped outlet)
Regular price

£2,502.00

(£2,085.00 ex VAT)

Regular price

Sale price

£2,502.00

(£2,085.00 ex VAT)

Unit price

per
Est. delivery: 5-7 working days
Introducing the new ENCO sewage treatment plant range by Marsh, designed to offer a cost-effective solution to off mains sewage treatment.  This sewage treatment plant comes with a pumped outlet and is suitable for dwellings with up to 8 people. The Marsh ENCO range is budget-friendly, whilst also providing top-quality results. 
This product is tested to BSEN12566:3 and CE-marked which makes it compliant with the latest Building Regulations requirements, as well as environmental standards. It has a class-leading effluent quality of 11.5:19.2:8.4 (BOD:SS:NH4) ensures discharges well within national consent standards.
Features:
Quiet energy efficient compressors - minimal cost of running & maintenance
Efficient chamber system for separation and retention of solids which improves final effluent quality
Standard or shallow options enable suitability for all site conditions, leading to a wide range of applications 
High specification bio-media (310m3 per m2 ) and membrane diffusers ensure even circulation. 
Internal recirculation (from final to primary chamber) continues treatment process to provide higher effluent quality whilst balancing flow over 24 hour period or periods of intermittent use
Integral lifting eyes for improved on-site handling
Unique 'keying-in' lip to assist anchoring into granular or concrete surround
Guarantee:
Rest assured that our Marsh sewage treatment plants come with a 10-year structural warranty and have a 50-year design life.
Installation Service:
If required, we can also provide you with an installation service at an additional cost (location dependent). Contact us on 0121 351 3230 to find out more.
Image for illustrative purposes only. The ENCO tank is grey in colour.
Share
Full Description

This Marsh ENCO sewage treatment plant is for dwellings with up to 8 people. It comes with a pumped outlet, which is beneficial as it means that a lower excavation depth can be used as the system is not relying on gravity to transport liquids. This also allows for more flexibility with the location that it can be installed in.

Why choose Marsh ENCO Sewage Treatment Plant?

Take advantage of the new ENCO range from Marsh Industries; it offers a competitively-priced solution to off mains sewage treatment systems.

Due to the 3 stage process of treating effluent, sewage treatment plants offer the most environmentally sustainable solution to off mains drainage.

The Marsh ENCO Sewage Treatment Plant is an excellent choice. In addition to the anaerobic absorption occurring in the essential settlement tank (as septic tanks), the ENCO unit permits the cleared up water to go into a second "air circulation" chamber where it is processed to expel the broken up constituents. Here oxygen-consuming microscopic organisms, upheld by diffused air and versatile media, guarantee full treatment is accomplished before the treated emanating (and 'sloughed off' microscopic organisms) stream to the last settlement chamber before release.

This Marsh ENCO plant treats effluent to British and European Standards to an impressively clean standard. This makes it clean enough to be discharged back into the watercourse whilst following all appropriate regulations. Our Marsh ENCO tanks can be manufactured with either a gravity or pumped outlet.

Our ENCO domestic sewage treatment plant comes with lifting eyes as standard to make unloading and installation faster and safer. It's innovative design allows it to self-level on the base and use unique pipe connections to ensure the installation is undertaken efficiently and correctly.

What are the benefits of the Marsh ENCO Sewage Treatment Plant?

• No moving parts
• Low running and maintenance costs
• Faster and safer to install due to lifting eye
• Tested and certified to BSEN12566-3
• 50-year design life
• 10-year structural guarantee

Installation is also available for this product.

Technical Specification

No. of people: 8

Height (mm): 1935mm

Outlet: Pumped outlet

Outlet Invert: 625mm

Inlet Invert: 550mm

Width (mm): 1650mm

Length (mm): 2602mm

Outlet Type: Pumped outlet
Installation Service

We can also offer an installation service for our stormwater attenuation, rainwater harvesting, water storage and sewage treatment solutions. Get in touch here.
Contact Us

Our team of experts are available and ready to speak to you. You can contact us or call us directly on 0121 351 3230. Available Mon-Friday 8am-5pm.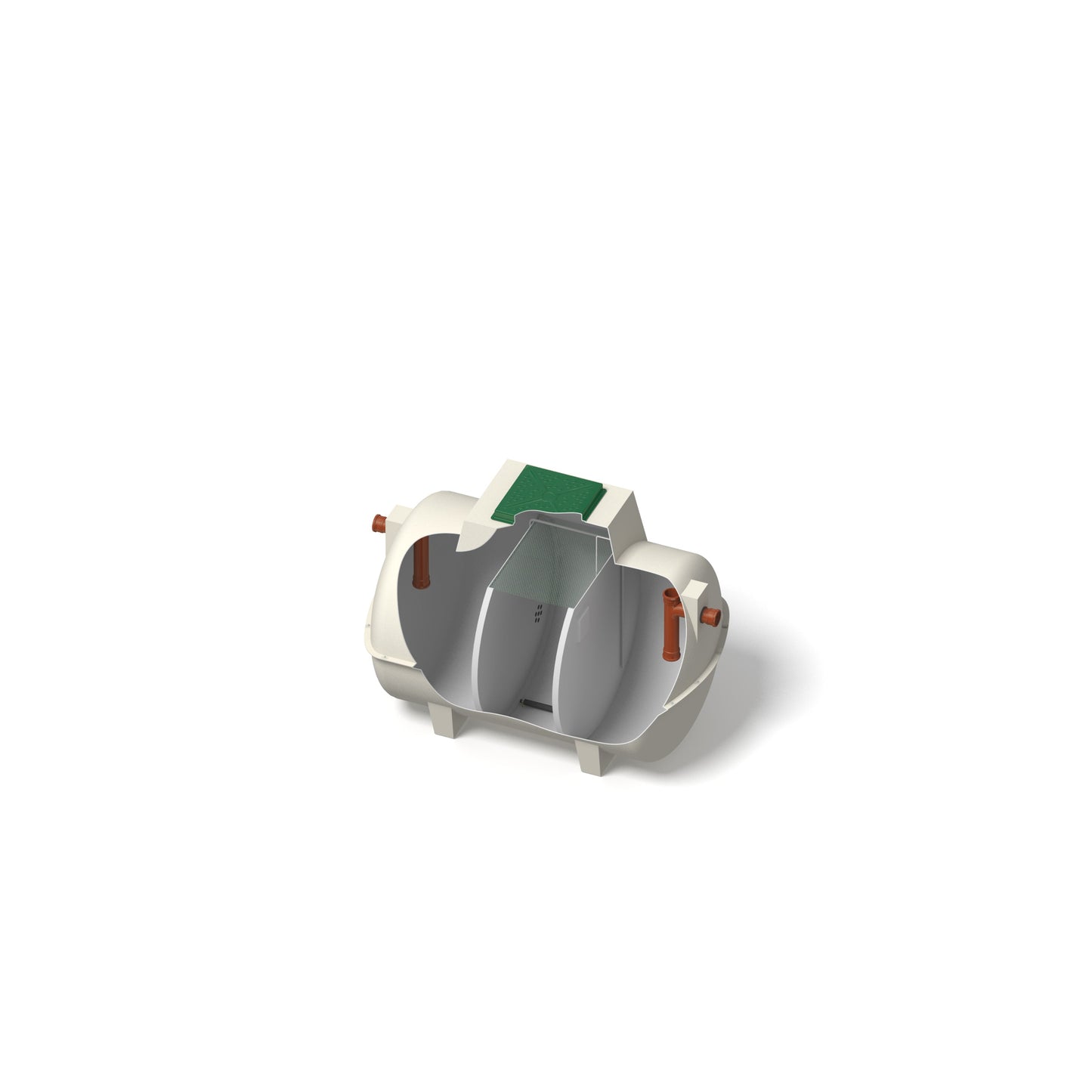 Further questions?
Our team of specialists are here to help. We install many of our products so can provide real-world advice. We also offer a free take-off service if required.
Make an enquiry