600mmx 450mm x 300mm House Inspection Chamber Section - FP McCann.
Est. delivery: 2-3 working days
Request a quote
The concrete inspection chambers are economic and versatile and meet the demands of domestic drainage installation. They are easily handled and excavation below ground level is reduced to a minimum. They are available in a variety of depths, with tongue and groove joints.
Share
Full Description

FP McCann's precast concrete inspection chambers are available in four common sizes: 600 x 450, 750 x 600, 1000 x 675 and 1200 x 750. Manufactured in accordance with BS EN 1917 / BS5911, each section has a tongue and groove joint and can be sealed with a sand and cement mortar or bitumen sealant in the same fashion as a circular manhole and chamber ring. To complete the chamber, FP McCann has a range of covers and ground level components. FP McCann's frame (also known as a surround) and lid combination is designed to sit flush with the top course, such as tarmac or concrete surfacing or in grassy areas. The lid itself features an anti-slip chequered finish and recessed lifting points to allow removal from the frame by use of standard lifting eyes.
Technical Specification

Weight (kg): 85 kg

Wall/Slab Thickness (mm): 40mm

Depth (mm): 300mm

Width (mm): 450mm

Length (mm): 600mm
Product Details

Diameter (mm):

Height (mm):

Weight (kg): 85 kg

Capacity (litres):
Need some advice?

Our team of experts are available and ready to speak to you. You can contact us or call us directly on 0121 351 3230. Available Mon-Friday 8am-5pm.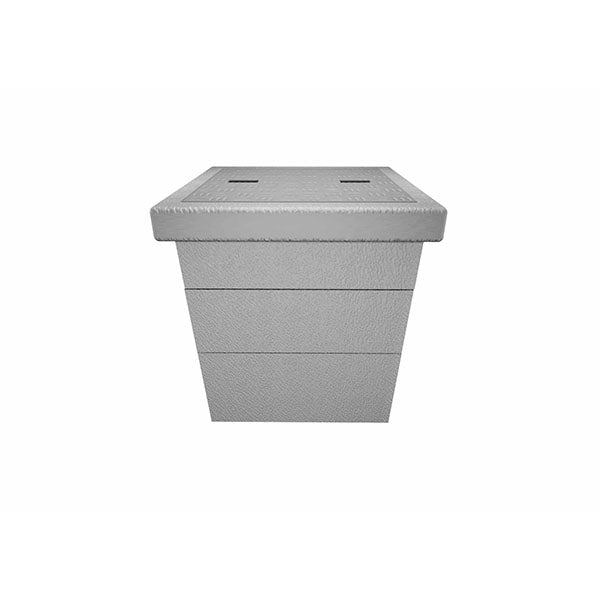 Installation Service
We also offer an installation service for our stormwater attenuation, rainwater harvesting, water storage and sewage treatment solutions.
Learn More
Further questions?
Our team of specialists are here to help. We install many of our products so can provide real-world advice. We also offer a free take-off service if required.
Make an enquiry