320mm Inspection Chamber - Complete (2 risers and square cover)
Regular price

£45.35

(£37.79 ex VAT)

Regular price

Sale price

£45.35

(£37.79 ex VAT)

Unit price

per
Est. delivery 1-3 working days
Share
Full Description

Manufactured from high strength polypropylene and engineered to last, this 320mm inspection chamber is a complete system. It includes a 320mm diameter inspection chamber base with 110mm connections, two 150mm high risers and one square manhole cover and frame.

We supply a wide range of inspection chambers manufactured from high strength polypropylene for a strong, versatile and durable chamber system. We can provide a complete system or separate components. Please call us for further options.

What are the benefits of an inspection chamber?
1. Access to underground utilities: An inspection chamber provides access to underground utilities such as sewer pipes, water mains, and electrical cables. This makes it easier to inspect, maintain, and repair these utilities when necessary.

2. Easy maintenance: With an inspection chamber, maintenance work on underground utilities can be done more easily and efficiently. For example, if a sewer pipe is blocked, the inspection chamber can be opened to allow access for unblocking and cleaning.

3. Better safety: An inspection chamber provides a safe
way to access underground utilities without having to dig up the ground. This reduces the risk of accidents and injuries for workers.

4. Lower costs: Having an inspection chamber can reduce the cost of maintenance and repairs as it is easier to access the utilities that need to be worked on. It can also save money in the long run by detecting problems early and preventing them from escalating into more significant issues.

5. Compliance with regulations: In many cases, local regulations require that an inspection chamber be installed as part of groundworks projects. Failure to comply with these regulations can result in fines or other penalties.
Technical Specification

Diameter: 320mm

Risers: 2 x 235mm high risers with seals

Load / Load Rating: A15

Depth (mm): 510mm

Cover Type: Square
Contact Us

Our team of experts are available and ready to speak to you. You can contact us or call us directly on 0121 351 3230. Available Mon-Friday 8am-5pm.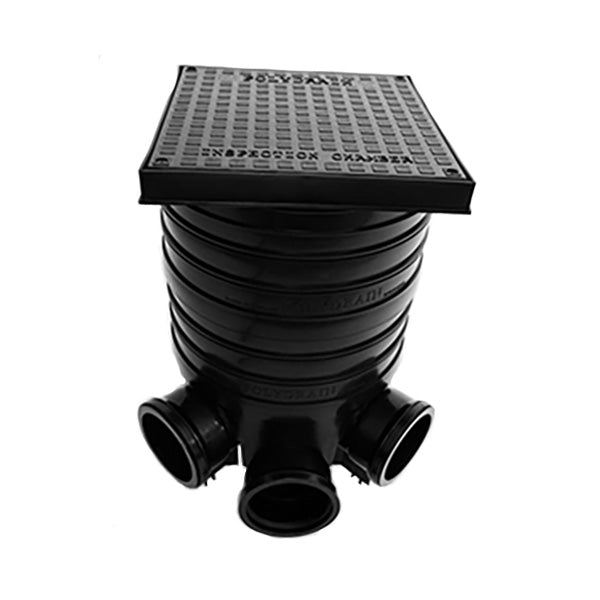 Further questions?
Our team of specialists are here to help. We install many of our products so can provide real-world advice. We also offer a free take-off service if required.
Make an enquiry