1,000 Litre Harlequin ORB Waste Oil Tank
Regular price

£1,515.60

(£1,263.00 ex VAT)

Regular price

Sale price

£1,515.60

(£1,263.00 ex VAT)

Unit price

per
Est. delivery: 10-14 working days
N.B. There will be a surcharge for any deliveries within the M25 area.
Designed for storage of waste oils and lubricants, the Harlequin waste oil tank (1000ORB) is compliant with all applicable regulations.  Each waste oil tank is equipped with a lockable tundish, integral bunding and a removable strainer as standard. A self- priming hydrostatic gauge can also be factory fitted as an extra option and additional cost. Please note that the gauge cannot be fitted at a later date. 
Please contact us for further details and quotations. 
Key Applications:
Environmental protection

Storage of used oil

Preventing contamination 

Ease of collection 

Cost- effective disposal
Share
Full Description

The Harlequin ORB range of waste oil tanks are available in sizes ranging from 350 litres to 2500 litres and are specifically engineered for the storage of waste mineral oils. This range of waste oil tanks are well-suited for garages, service centers and workshops. The factory fitted hydrostatic gauge adds enhanced convenience for models ranging from 650 to 2500 litres at an extra cost.

This Irish made, waste oil tank offers many benefits, These tanks are UV stabilized, corrosion resistant and have high impact strength. This is a result of being manufactured from high grade polyethylene, which provides a high quality, reliable product. They offer additional benefits such as:

- Integral bunding
- Large capacity tundish
- Removable strainer
- Optional self-priming hydrostatic gauge

All Harlequin tanks comply with the latest European standards as they are CE marked and exceed all requirements within the Water Environment (Oil Storage) (Scotland) Regulations 2006.

To sum up, the ORB range plays an important role in the crucial management of used oil. These waste oil tanks are efficient, environmentally sustainable and safe. This makes them a valuable product for businesses and facilities that produce waste oil.

Technical Specification

Weight (kg): 135 kg

Height (mm): 1525mm

Tank Size (Litre): 0 - 1000 litres

Width (mm): 710mm

Length (mm): 2150mm
Contact Us

Our team of experts are available and ready to speak to you. You can contact us or call us directly on 0121 351 3230. Available Mon-Friday 8am-5pm.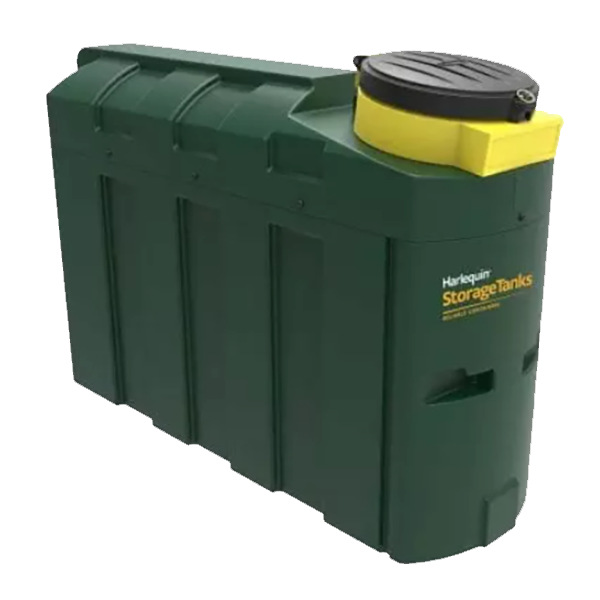 Further questions?
Our team of specialists are here to help. We install many of our products so can provide real-world advice. We also offer a free take-off service if required.
Make an enquiry