4.5m x 10m Non-woven Geotextile Handy Pack
Regular price

£53.99

(£44.99 ex VAT)

Regular price

Sale price

£53.99

(£44.99 ex VAT)

Unit price

per
Est. delivery: 3-5 working days
This 4.5m x 10m Non-woven Geotextile Handy Pack is used as a separation and filtration layer in applications for erosion control, attenuation units, horse arenas, trench drains etc.

Typical applications

• Light duty fleece/separating/strengthening layer under access roads & areas of hard-standing
• Filter surround for trench drains
• Separation to stop the intermixing of dissimilar soil layers
• Filtration, allowing the flow of water whilst preventing the passage of soil
Share
Full Description

This 4.5m x 10m Non-woven Geotextile Handy Pack is a type of geotextile fabric that is commonly used in civil engineering, construction, and landscaping projects. This specific product comes in a compact and convenient pack, measuring 4.5 meters wide by 10 meters long, making it easy to transport and store.

The non-woven geotextile fabric is made from synthetic materials such as polyester or polypropylene fibers, which are needle-punched to create a strong and durable fabric. It is designed to filter and separate different layers of soil, rocks, and other materials, providing stability and reinforcement to the ground.

This Handy Pack is commonly used as a separator layer in road construction, preventing the mixing of different types of soils and ensuring the proper functioning of the road surface. It can also be used as a filter layer in drainage systems, allowing water to pass through while preventing soil particles from clogging the system.

The geotextile fabric is easy to install and can be cut to fit different project specifications. It is resistant to UV radiation, chemicals, and biological degradation, ensuring a long lifespan and durability. The compact and convenient pack makes it easy to handle, store and transport to job sites.

Technical Specification

Diameter: 4.5m

Material: High-Density Polypropylene (HDPE)

Roll Size: 4.5m x 10m

Length (mm): 10m
Installation Service

We can also offer an installation service for our stormwater attenuation, rainwater harvesting, water storage and sewage treatment solutions. Get in touch here.
Contact Us

Our team of experts are available and ready to speak to you. You can contact us or call us directly on 0121 351 3230. Available Mon-Friday 8am-5pm.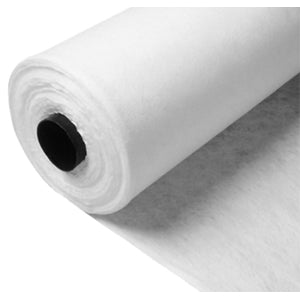 Further questions?
Our team of specialists are here to help. We install many of our products so can provide real-world advice. We also offer a free take-off service if required.
Make an enquiry