Storm-T Universal DN150 Saddle Fitting
Regular price

£54.00

(£45.00 ex VAT)

Regular price

Sale price

£54.00

(£45.00 ex VAT)

Unit price

per
This brand new lateral saddle fitting by Fernco is designed to be used with a selection of host pipes to connect DN150 lateral pipes easily and efficiently. It is a universal lateral saddle fitting, meaning it can be used in a number of underground drainage applications. 
This product's innovative design allow it to be connected to any DN150 sized pipe. 
Standardised to BS EN 681-1  & BS EN 295.
DN300 - can be used with host pipes between 150mm and 300mm in diameter with 5mm to 30.5mm wall thickness. 
DN375 - 450 can be used with host pipes between 375mm and 450mm in diameter with 5mm to 45mm wall thickness. 
DN500 - 600 can be used with host pipes between 500mm and 600mm in diameter with 10mm to 60mm wall thickness. 
All of the above are for use with a DN150 lateral pipe. 
Share
Full Description

This DN150 universal saddle fitting is the ideal choice for various underground drainage applications. The design of the fitting makes it incredibly versatile.

The intuitive collar design is used to control the insertion depth, which contributes towards the versatility of the product.

All that is required to fit this product, is a small excavation hole in the host pipe to fit the 150mm lateral pipe. The saddle is then connected to the core hole.

Benefits:
- This product saves labour time and costs
- Saves excavation requirements
- No heavy lifting equipment is required
- Universal to the nominal diameter of both the main pipe and lateral pipe
- Quick and easy to install
- Does not obstruct the flow - the tapered edges prevent snagging and encourage a smooth flow
- Can be installed at any angle along the top section of the host pipe
- Lightweight material
- Eliminates the requirement for a pre-made factory junction

Technical Specification

Pipe Size (mm): DN150 lateral size
Contact Us

Our team of experts are available and ready to speak to you. You can contact us or call us directly on 0121 351 3230. Available Mon-Friday 8am-5pm.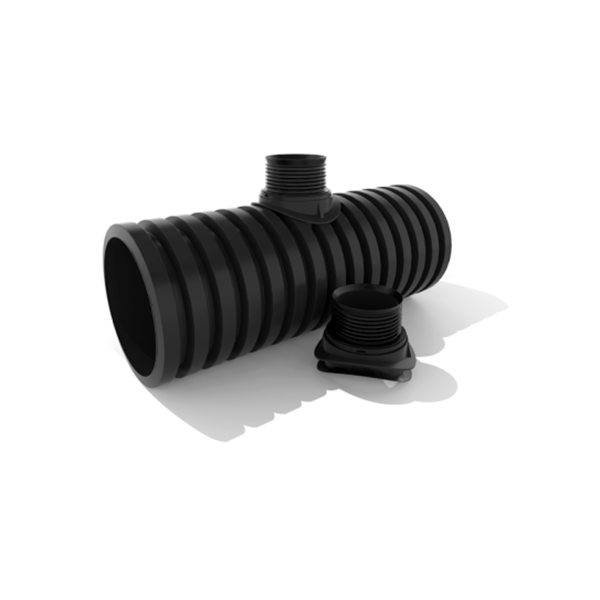 Further questions?
Our team of specialists are here to help. We install many of our products so can provide real-world advice. We also offer a free take-off service if required.
Make an enquiry