Soakaway Crates: AquaCell Core-R 60 Tonne Wavin Soakaway Crate - 200 Litres
Regular price

£44.99

(£37.49 ex VAT)

Regular price

Sale price

£44.99

(£37.49 ex VAT)

Unit price

per
Est. delivery: 2 working days
AquaCell Core-R has been designed for use in deep applications, subject to regular and heavy traffic loadings, e.g. cars and HGV 's. AquaCell Core-R can also be used in both landscaped and deep soakaway applications.
| | |
| --- | --- |
| Colour | Black |
| Dimensions | 1m x 0.5m x 0.4m |
| Weight | 11.5kg |
| Storage Volume | 190 litres |
| Void Ratio | 95% |
| Material | Recycled PP |
| Vertical Loading | 60.6 tonnes/m2 (606 kN/m2) |
| Lateral Loading | 11.4 tonnes/m2 (114 kN/m2) |
| Brand | Wavin |
AquaCell Core-R Specification
Share
Full Description

Our popular and cost-effective soakaway crates (AquaCell Core-R) provide the ideal stormwater management solution.

Helping you meet SUDS requirements
Sustainable Drainage Systems (SuDS) is a vital consideration for all new building developments regardless of size. For example, planning permission now has to be sought for the installation of traditional impermeable surfaces in front gardens (such as driveways, paving) over 5sqm in size. A solution to this is to make the area permeable through the use of permeable paving or asphalt, or by simply installing an effective soakaway system.

Our soakaway crates offer the perfect stormwater management solution – they help prevent flooding during periods of heavy rainfall by holding back excess water and then gently releasing it back into watercourses. This gentle release prevents local sewer networks and watercourses from becoming overwhelmed and flooding.

As well as stormwater attenuation, our soakaway crates can also be used for greywater storage.

Designed to be eco-friendly, our soakaway crates are made from recycled polypropylene and are recyclable at end of use, helping you meet sustainability targets.

What are the advantages of our Soakaway Crates?
Assembled ready to install
Available in different configurations to meet specific load requirements
High load-bearing capability able for HGV traffic
Simple and fast to install
Modular size of 1m x 0.5m plan x 400mm height ensures great versatility in both size and shape of storage
Lightweight units under 15kg remove the need for mechanical handling
Why use our Soakaway Crates?
Prevents extreme peak flows to main drainage and water purification systems
Rainwater is "cleaned" by the geotextile surround
Decreases possibility of flooding during heavy rainfalls
Allows development of difficult sites by using attenuation / water storage
Decreases environment problems caused by the development
For water storage for subsequent use in toilets, watering plants, cleaning vehicles and other grey water usages
We offer an Installation Service for Soakaway Crates
If you need a complete package, we can also design, supply and install your stormwater management system for you. Our team of experienced and professional installation experts can provide you with a cost-effective package. Call us on 0121 351 3230 for advice.
Technical Specification

Capacity (litres): 0.2m3

Weight (kg): 11.5kg

Load / Load Rating: 60 tonnes

Width (mm): 0.5m

Length (mm): 1m
Installation Service

We can also offer an installation service for our stormwater attenuation, rainwater harvesting, water storage and sewage treatment solutions. Get in touch here.
Contact Us

Our team of experts are available and ready to speak to you. You can contact us or call us directly on 0121 351 3230. Available Mon-Friday 8am-5pm.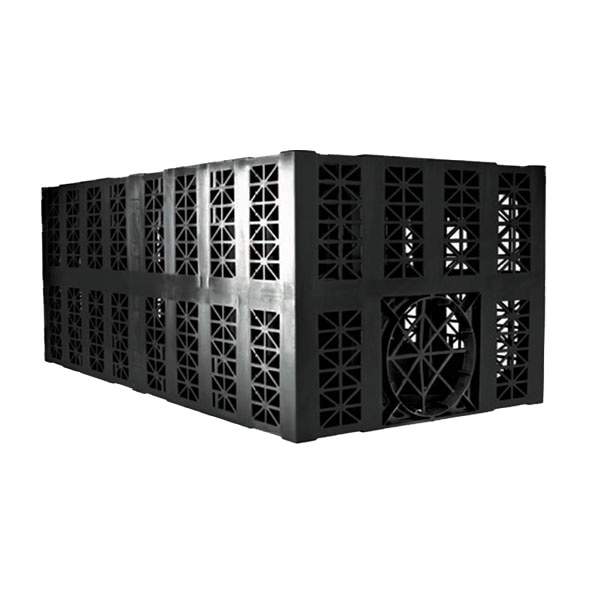 Further questions?
Our team of specialists are here to help. We install many of our products so can provide real-world advice. We also offer a free take-off service if required.
Make an enquiry