Marsh Rain Cell Spherical - Home and Garden 4,500 litre
Regular price

£4,105.64

(£3,421.37 ex VAT)

Regular price

£4,357.99

Sale price

£4,105.64

(£3,421.37 ex VAT)

Unit price

per
Est. delivery: 5-7 working days
RAINCELL TANK BENEFITS :
Heavy duty shell as standard ensures tank integrity
Integral lifting eyes for improved on-site handling
Unique lip to assist anchoring into granular or concrete surround
Self cleaning, easily accessed filter to improve water quality
Pressure sensitive, dry-run protected pump guarantees supply pressure Automatically turns off when no demand or no rainwater detected
ÔELITE ' option provides additional level indicator for visible display of tank volume

View data sheet

Share
Full Description

This 4,500 litre Marsh Rain Cell Spherical is designed primarily for home and garden use. It works by making use of the natural water that falls instead of sending it towards a surface drainage network, which reduces the risk of flooding. The collected rainwater can be used for things such as flushing toilets, as well as for washing machines or watering the garden.

RAINWATER HARVESTING SYSTEM

Collecting and reusing rainwater at source reduces your mains water demand allowing you to save money on your water bills whilst doing your bit for the environment by reducing run-off to local drains and rivers alleviating flood risk.

Why choose Marsh?

The Marsh Raincell is the simplest, most reliable and cost-effective household domestic rainwater harvesting system on the market. The system accommodates most household roof sizes and effectively distributes clean recycled rainwater to the home or garden, allowing you to save up to 50% of your metered water costs.

Technical Specification

Capacity (litres): 4,500 litres

Height (mm): 2600mm

Diameter: 2196mm

Outlet Invert: 562mm

Inlet Invert: 500mm
Contact Us

Our team of experts are available and ready to speak to you. You can contact us or call us directly on 0121 351 3230. Available Mon-Friday 8am-5pm.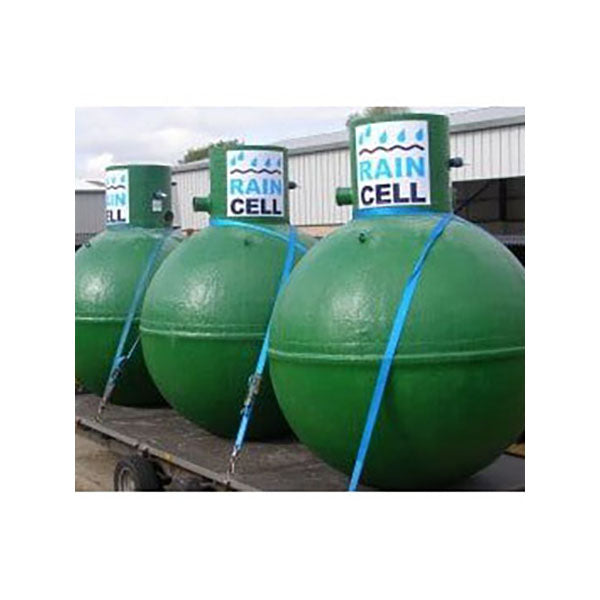 Further questions?
Our team of specialists are here to help. We install many of our products so can provide real-world advice. We also offer a free take-off service if required.
Make an enquiry