Deepstyle 170mm uPVC Gutter 90° Internal Angle
Regular price

£13.49

(£11.24 ex VAT)

Regular price

Sale price

£13.49

(£11.24 ex VAT)

Unit price

per
Est. delivery 3-5 working days
A 90° internal angle component for Deepstyle 170mm uPVC gutter. This uPVC fitting is ideal for a commercial/industrial rainwater management system. CLIP & SEAL, the innovative installation technology from Brett Martin, comes pre-fitted on this product. This makes installation entirely hassle free. 
Fully tested for accelerated ageing according to BS EN 607:2004

Loading capabilities in line with BS EN 1462:2004

High quality product certified by BS EN ISO 9001:2015
Manufacturer's product code: BR098
Download: Brett Martin Rainwater brochure | Brett Martin Rainwater product guide
Share
Full Description

Brett Martin 170mm Deepstyle uPVC gutter system. This product range is made for warehouses, factories, apartment buildings, commercial projects, and farm buildings.

High-strength PVC is the material used to manufacture all of the components in this rainwater management system for commercial or industrial projects. This material makes the products ideal for larger projects needing hard-wearing solutions.

How easy is it to install?

The components in this Brett Martin gutter system come fitted with the innovative CLIP & SEAL easy-install system. A water-tight seal is created between the different parts by simply clipping them together.

It is possible to install this product with cordless power tools. Guide markings on the product itself provide a handy aid for installing the components with sufficient space to allow for expansion in warmer weather.

How do I decide which components I need?

Apart from gutters, several other components are also required to install a whole gutter system. A 90° Internal Angle allows your system to be installed around right-angled corners of the building.

Non-standard angles are also available.

More information is detailed in our guide on which capacity system is suitable for your project. It also details some of the considerations you should take into account when deciding which products to purchase. The guide is available to read here.

Brett Martin gutter systems comply with the latest statutory requirements, including:
• The Building Regulations 2010
• Building (Scotland) Regulations 2004
• Building Regulations (Northern Ireland) 2012
• The Building Regulations 2010 (ROI)

This product also meets the standards of EN 607:2004 and EN 12200-1:2000. This means that the manufacturer has complied with several requirements to make this product. Because of this certification, the product lasts long, its appearance stays looking good, and it is hard-wearing.

The Brett Martin range is compatible with products from other manufacturers.
Technical Specification

Material: uPVC

Length (mm): 170mm (outside); 80mm (inside)
Contact Us

Our team of experts are available and ready to speak to you. You can contact us or call us directly on 0121 351 3230. Available Mon-Friday 8am-5pm.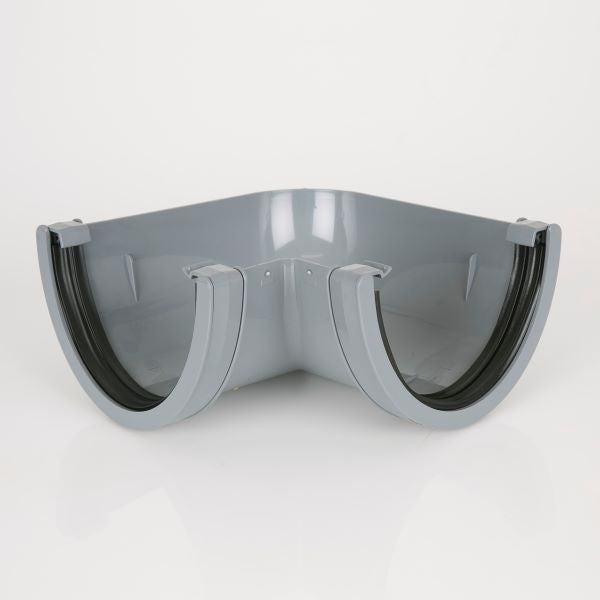 Further questions?
Our team of specialists are here to help. We install many of our products so can provide real-world advice. We also offer a free take-off service if required.
Make an enquiry