250 Person Marsh:Standard Sewage Treatment Plant (Gravity)
Regular price

£38,956.99

(£32,464.16 ex VAT)

Regular price

Sale price

£38,956.99

(£32,464.16 ex VAT)

Unit price

per
Est. delivery: 4-5 weeks
Marsh:Standard cost-effective sewage treatment systems provide biological treatment to off-mains wastewater on large residential, commercial, industrial and leisure sites ranging from 50-300+PE.
The proven reliability of the simple but effective Submerged Aeration Filtration (SAF-MBBR) system offers both operating and financial benefits when compared to more complex and expensive alternatives that require frequent servicing and maintenance to sustain performance.
250 Person Sewage Treatment Plant Drawing
Share
Full Description

Plant sizing
Designed to BS12255, systems are available from 50-300+ PE in sizes ranging from Ø2.5-3m satisfying the demands of virtually all site conditions.

Class-leading effluent quality
Designed to British Water loadings (150litres per person, 60mg BOD litre and 8mg/litre Ammonia) ensures effluent discharge is well within national consent standards.

Cost-effective operation and maintenance
Systems have no internal moving parts and require minimal ongoing maintenance.

Heavy duty shell as standard
Structurally sound and built to last. Enables easy installation in all ground conditions.

High media surface area
High specification bio-media (310m3 per m2) and membrane diffusers provide even circulation to eliminate 'dead spots'.

Low energy compressor(s)
Easily accessible low energy compressor for minimal running, maintenance and servicing costs. Integral alarm detects low pressure in air line.

Internal recirculation
Continues the treatment process to provide higher effluent quality whilst balancing flow over 24 hour period or periods of intermittent use.

Lockable manhole covers
600mm lockable manhole covers provide significant strength and durability, and helps to reduce possible odours.

Health and Safety considerations
The Marsh:Standard can be fitted with many safety features including turret guards, failure alarms for compressor components and high level alarms.

Optional extras
Optional extras include carbon covers for odour control, turret guards for additional safety, polylok filters to further reduce suspended solids, high level alarms and telemetry for monitoring, and risers/pumped outlets for deeper installations.

Manufactured in the UK
All units are manufactured in our twin manufacturing plants at Kettering and Bridgwater. The tanks are constructed using GRP (virgin unfilled resin – no 'fillers' such as chalk) providing consistent wall thickness ensuring superior structural strength and durability.
Technical Specification

No. of people: 250

Outlet: Gravity

Outlet Invert: 900mm

Inlet Invert: 160mm

Width (mm): 1900mm

Length (mm): 6540mm

Outlet Type: Gravity
Contact Us

Our team of experts are available and ready to speak to you. You can contact us or call us directly on 0121 351 3230. Available Mon-Friday 8am-5pm.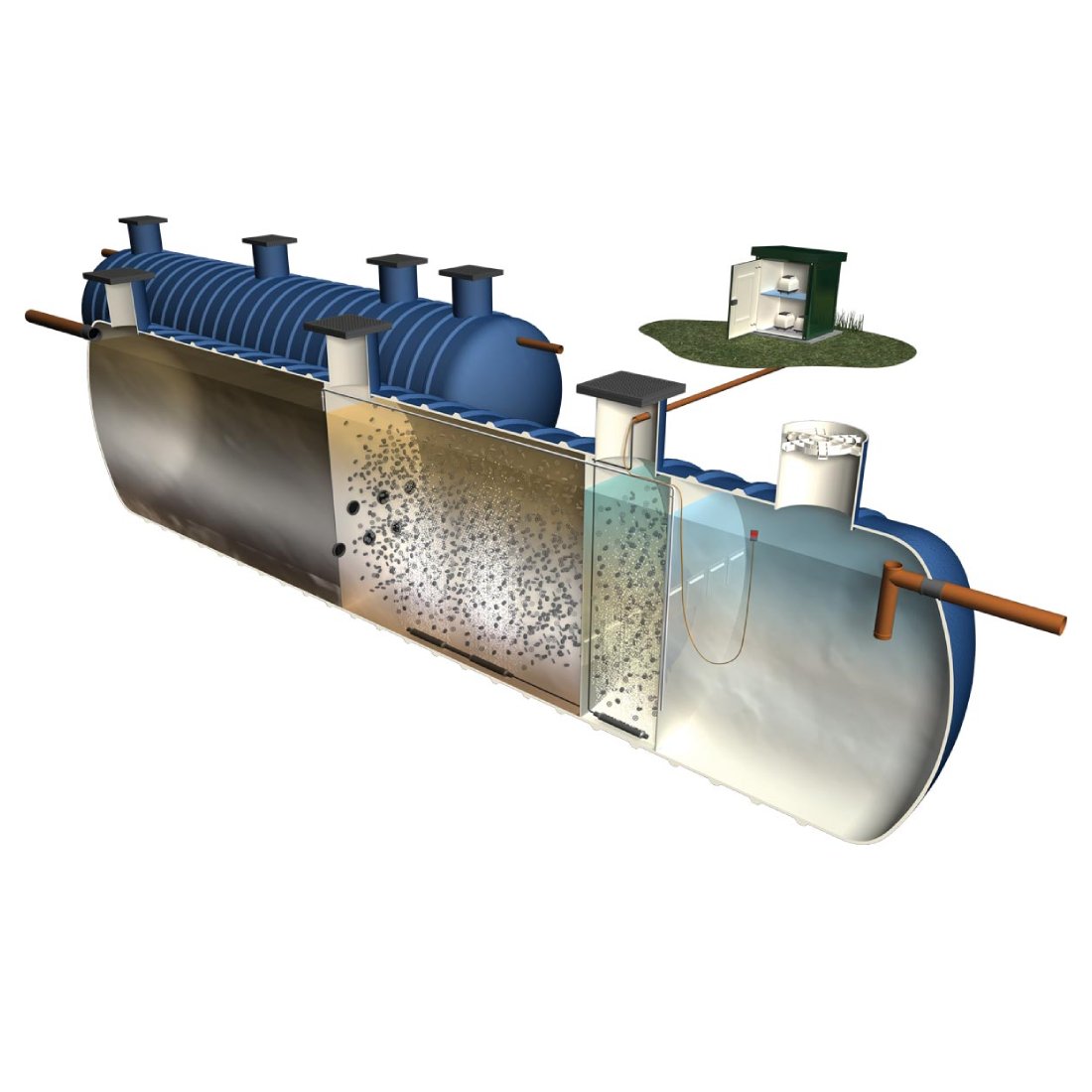 Further questions?
Our team of specialists are here to help. We install many of our products so can provide real-world advice. We also offer a free take-off service if required.
Make an enquiry