1200mm x 1000mm depth Watertight Concrete Manhole Rings (DN1200)
Est. delivery: 3-5 working days
Request a quote
1200mm x 1000mm depth Watertight Concrete Manhole Rings
This watertight manhole ring is made from concrete and is 1200mm x 1000mm depth. This system is the future of manhole construction for contractors in the UK & Ireland.
Features:
Quick and easy to install
Watertight on construction
Safe lifting system
Cost saving
No concrete back fill required
Share
Full Description

We supply a wide range of manhole rings to suit your needs. This watertight DN1200 wide wall concrete manhole ring measures 1200mm x 1000mm deep.

Why purchase an DN1200 wide wall watertight concrete manhole ring?
Tracey Concrete watertight manhole rings are manufactured with a watertight joint which is a superior seal to a tongue and groove joint. The 130mm thick wall eliminates the need for a concrete surround, creating an impermeable chamber.

Why purchase an DN1200 wide wall watertight manhole ring made by Tracey Concrete?
Tracey Concrete is one of the largest precast concrete manufacturers in the UK and Ireland. Tracey Concrete's success has been built on the consistent quality of their products and efficient delivery.

What are the benefits of DN1200 wide wall watertight concrete manhole rings?
We find our customers like our range of wide wall manhole concrete rings due to their ease of installation, high-specification and design.

Quick and easy to install – reducing costs on site
Watertight on construction – meaning no water will enter your system
Safe lifting system – to ensure the safety of all workers on site
Cost saving – due to it's ease and timeliness of installation
No concrete back fill required – reducing costs and time
Technical Specification

Type of Joint: Watertight

Lifting Shackle: 3 x 2.5T

Step Heights (mm): 250mm

Weight (kg): 1350 kg

Diameter: 1200mm

Overall diameter (mm): 1460mm

Wall/Slab Thickness (mm): 130mm

Depth (mm): 1000mm

Circumference (mm): 4712mm
Product Details

Diameter (mm): 1200mm

Height (mm):

Weight (kg): 1350 kg

Capacity (litres):
Need some advice?

Our team of experts are available and ready to speak to you. You can contact us or call us directly on 0121 351 3230. Available Mon-Friday 8am-5pm.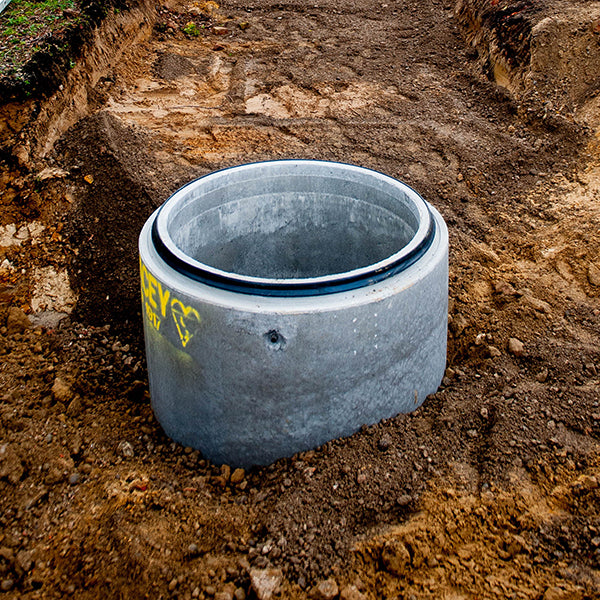 Installation Service
We also offer an installation service for our stormwater attenuation, rainwater harvesting, water storage and sewage treatment solutions.
Learn More
Further questions?
Our team of specialists are here to help. We install many of our products so can provide real-world advice. We also offer a free take-off service if required.
Make an enquiry