Established for over 20 years, Eckland Lodge is a family-run business park situated in a beautiful rural setting on the Leicestershire/Northamptonshire border. The business park boasts a mix of modern commercial properties, including offices, workshops and factory units. In 2017, the company decided to extend its portfolio of properties with the addition of a brand new, purpose built, serviced office development, called The Lincoln Building.
The creation of this new office development meant that the number of people working at the business park was set to increase from 180 to over 350. As a result, the park's existing sewage waste management system was no longer deemed suitable.
One of the problems was its rural location – this prevented it from being able to connect to the mains sewerage. It therefore needed an off-mains system that was large enough to process waste for more than 350 people. And with plans to further extend, it also needed a solution that would accommodate future growth.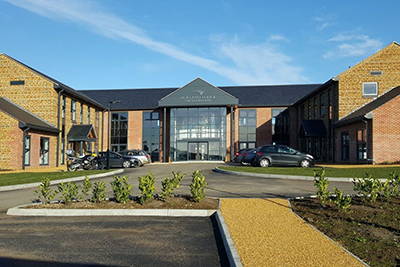 Eckland Lodge approached us to provide them with expert advice. After gathering the relevant data, we recommended a cost-effective sewage treatment plant designed to cater for large commercial and industrial sites. The below-ground tank was deemed ideal for Eckland Lodge as it caters for up to 500 people, allowing for future growth. Manufactured to high quality standards, the sewage treatment plant is designed to ensure effluent levels are well within national consent levels and the associated running, maintenance and service costs are also kept to a minimum.
Leigh Parkin, Business Park Manager at Eckland Lodge commented: "Cotterill Civils did a fantastic job for us. They were very professional and took great pride in their work. I liked the fact that they really look out for their customer. Instead of focusing on making money for themselves, they focus on getting you the best possible deal. The team were also extremely knowledgeable and were able to advise us on excellent solutions. From start to finish, nothing was ever too much trouble! I would, without hesitation, recommend them."
For help and advice on a sewage treatment solution, call us on 0121 351 3230